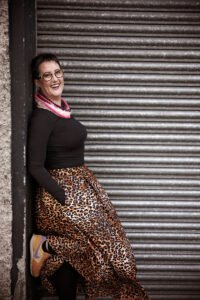 I am a psychotherapist and over the past 15-years I've worked with people across a range of addiction, mental health, suicide prevention and homeless services, working with individuals, couples and adolescents seeking to change their lives.
I am Mum of 3 and have been through the process of finding my parenting best.  I am always working on myself to keep meeting the needs of myself and the family. When I have free time I love being in the garden as it's a great place to unwind, relax and switch the head off.  I also love a good charity shop, try as hard as possible to live a zero waste life and am always trying to make more time for music and books.
My personal and professional experience has taught me that we all experience ups and downs in life. Finding someone to work this through with is the beginning of understanding your story and becoming the person you'd like to be.
My passion is working with parents. How parents interact with children in the early years shapes a child's brain for life and this isn't spoken about enough. 
I love community work and can often be found collecting dumped rubbish or organising some sort of community meet up (in the days when this was what we did!). 
I've been featured in various media including The Irish Times, Red FM Radio, The Independent and The Echo which is so important to me because it normalises and highlights struggles that parents face.