The Calm Parenting Community. 
Not another thing to do, it's your place to be.
Do you want to learn to become a calmer parent?
Is your child having a hard time and you need to know how to help them?
Want to know what to do and say in those moments where your child is upset, angry or anxious?
Is your child, and family, stuck on a waitlist waiting for support and answers?
Perhaps you feel things are ok, but want expert information, tips and advice to help your family grow?
I have to thank you and this group.  I've tried many supports over the years as a Mam, and the Calm Parenting Community has helped me more than you could ever know.
Welcome to The Calm Parenting Community
Welcome to my online support and advice group for all parents. Every parent needs expert advice and support to make sure they're really offering their children what they need to support their developing emotions, behaviours and mental health.  In the Calm Parenting Community you get to tap into my extensive (eighteen years) experience supporting families as and when you need it, alongside peer support and a community of parents that get what you're going through.
This is a commuity where other parents are going through the same things as you so you're not alone with what's going on.
I'm there to guide you through life as things unfold and support you to support your child.  No more wondering if you're doing the right thing, no more being unsure about managing big feelings. 
You'll get peace of mind knowing you're doing and saying what's right to support the development of your child without losing yourself along the way.
You don't have to be in crisis to join, it's for the day-to-day parenting problems too.  Every parent of any age or ability child is welcome to join and support is wrapped around you to be the person, and parent, you'd like to be while sharing the information you need to know to help raise your child and supporting you along the way to help them thrive.
Now is the time your child needs you to enhance your skills and keep your worries and uncertainties at bay. Don't wait for something to happen – all parents can fine tune their relationship with their child so they can sustain the ups and downs of life.
The Calm Parenting Community is for parents who
\

Want family life to be easier and happier

\

Want to be heard

\

Are supporting their children with a diagnosis, or waiting for a diagnosis

\

Want to understand behaviours and emotions

\

Would like to learn a gentler approach to parenting

\

Are supporting children through mental health difficulties including self-harm, anxiety and suicidal thoughts

\

Are sick of being on a waitlist and want parenting advice now
A calmer family life is possible with the right support, information and community around you.
You're supported without criticsm and judgement in the Community.
It's worth its weight in gold!
Amy Mum of 4
There are two ways to join the Calm Parenting Community
FOUNDATION ACCESS
Access a vault of my knowledge crafted from all my years helping families just like yours – cheaper than the half read self help and parenting books abandoned on your nightstand!  

Each week I send you an email with the information you need to know to develop your gentle parenting approach.  

 

The information is also stored in the Calm Parenting Club app which you have access to, so you can refer back to it whenever you need without having to sift through emails!

€9.99 / MONTH OR €99 ANNUALLY

"I love the videos, there's so much content that I can find the answers I'm looking for" – Paloma Mum of two
EXPERT SUPPORT
Expert Support gives you access to that full vault of my experience and I will also be there to answer your queries, offer parenting advice and support to reassure you as you implement the techniques and strategies.

Together we will build the family dynamic you want and deserve and help you to enhance your skills for gentle, mindful and compassionate parenting.  Hosted in a private app away from social media, support is at your fingertips from myself where you can ask me questions whenever you'd like to.  We've two monthly Live Q&A's a month – one with myself and one with myself and a specialist child and adolescent psychotherapist.

All the information is recorded, so you won't have to get a babysitter to get the answers you need!  The community is kept small so you get what you need from being here.

"It's a space without shame, but with space and focus to consider making positive change" – Sonia, Mum of two

€60 / MONTH OR €660 ANNUALLY
Please note that this is a therapeutic led community. This means that alongside the peer chat, support and invaluable sharing of experiences – the information, advice, support and community is therapeutically managed by expert professionals.
Become a less shouty overwhelmed parent
Develop healthy boundaries
Know what to say and do to help your child's behaviour and emotions
Here's what parents say about being part of the Calm Parenting Community
I've learned more from you than any parenting book I've ever read!
Suzanne Mum of two
Boost your confidence with peer and professional support
Getting support and answers doesn't have to take too much time
A look inside the Calm Parenting Community app
The Calm Parenting Community is hosted in a private app away from social media.  Inside is where we chat and all the information to support yourself and your family is stored.  It's easy to use and keeps us connected easily and most importantly, works around your schedule.
The information and support is a mixture of audio, video, PDF and text, so you can absorb what you need in the way that works best for you.  All Live sessions (two a month in the Expert Support Level) are recorded and stored for you to watch back in your own time.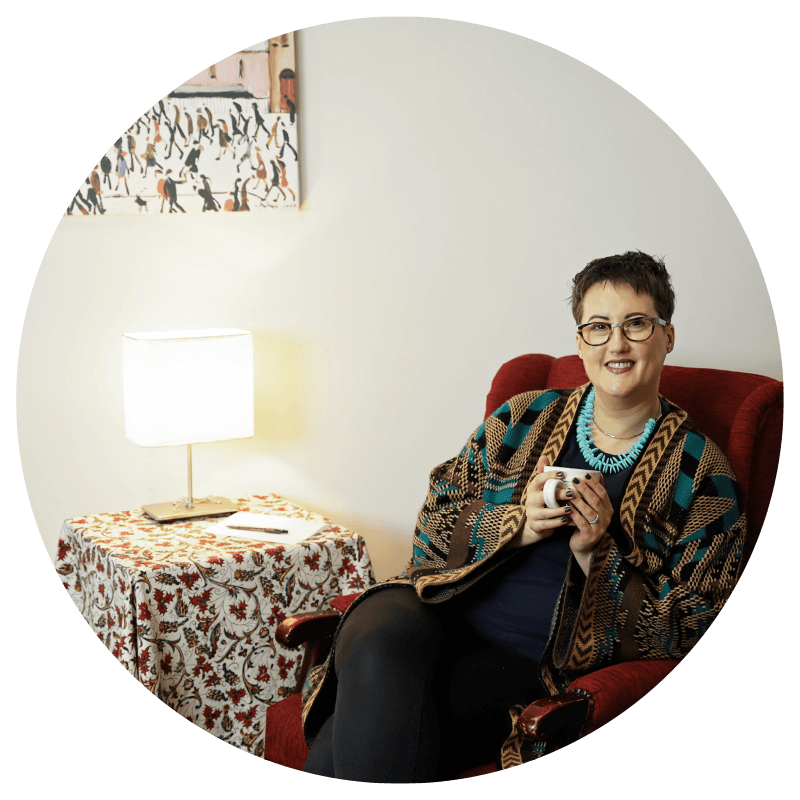 Meet Bethan
I am a Psychotherapist which means that I am an expert in supporting people to have the relationships they want to with themselves and those around them.
I've worked with suicide and self-harm prevention, mental health difficulties and addiction.  My passion is to see children and parents for who they are, look past behaviours and see how we can create change that works.
Over 10 years ago, I realised I had to learn a whole new way of being. On the outside things looked fine – I was working, the kids were healthy, but I was unhappy. I was experiencing really difficult emotions such as anger, rage and anxiety.
I knew that if I didn't learn what this was about, I wouldn't be able to parent in the way that I'd like to.  If I didn't have the skills to manage my emotions, how could I help my children with theirs?
I had to work through all the hardest parts of me; triggers, fears, worries, guilt, shame, anger and anxiety. As a result of that process I now can help my children navigate through their emotional and behavioural needs. And better than that, I found freedom in me.
I look forward to supporting you to do the same in the Calm Parenting Community.
If you have any questions about the Calm Parenting Community, feel free to contact me by email at hello@bethanoriordan.com